I've lived in apartments for the past 8 years. And in those 8 years, I've moved apartments 7 times. Surprisingly, there hasn't been too much variety: they've all had beige carpets, white walls, and the layouts are never quite functional. One was quite colorful though - butter yellow counter tops with a neon yellow sink, and a pink bathtub in the itty bitty bathroom!
So for today, I'm playing 'Pretend it's a House'.
Let's also pretend that my husband will go along with any furnishing and decor styles I suggest. Here's what inspires me today:
I love this kitchen! Lots of counter space, a very slightly unique backsplash, a big island with seating, a nearby but separate dining area... I'd want to change the drawer pulls, darken the stain on the hardwood floors and switch the chairs for something slightly less country.
Just replace the flooring with something less busy, sub a deep purple rug instead of the green, and switch out the blanket for something less animal-looking and
this living room
from Young House Love [one of my new favorite blogs!] is perfect. Look how big that couch is - totally enough room for two people and a dog, or a bit of company. And that console table spans the length of the couch - so much hidden storage space! That little office nook is the perfect size for the space.
Imagine this in some color other than gray - maybe a pale teal or a pewter-purple color. Think lighter furnishing and a darker floor. I love that there's natural light, a small seating area, and a vanity or office nook.
I've had
this bathroom
in mind since I first saw it in The Blue Issue of House Beautiful back in 2009. I love how calming it looks, how open the floorplan is, how there's space for two people to be in the room at the same time. It's massive though, if you look at the other photos. I'd like to scale it down by about half - too much empty space.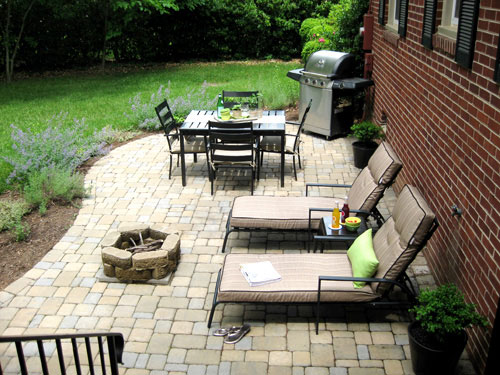 Here's one thing you never get living in apartment: a yard. And a patio.
This one
from Young House Love's first home is lovely - lounge space, some outdoor dining space, room for guests to mingle, and living plants!
Don't tell me there's no coherent style - I'm not designing or moving to or furnishing a house anytime in the near future. However, anything above is better than the beige carpet, white walls, mix-and-don't-match furniture we've got currently!

If you were given the chance to remodel one room where you currently live, what would you remodel?